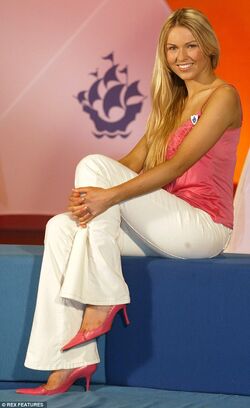 Zöe Salmon (born 7 January 1980) is a Northern Irish television presenter who hosted the children's television show Blue Peter from 23 December 2004 to 25 June 2008. She also appeared on Dancing on Ice in early 2009. She was also Miss Northern Ireland 1999.
Salmon was revealed as the 30th Blue Peter presenter on 25 October 2004. She first appeared on the show on 23 December 2004, in its Christmas special. She was originally meant to replace Liz Barker when the latter left on maternity leave; however, Barker had already returned by the time Salmon made her debut. She presented the show with Konnie Huq, Simon Thomas, Matt Baker, Liz Barker, Gethin Jones and Andy Akinwolere.
Shortly after her debut, she famously said "I'd Try Anything Once", which started a trend in her being asked to do dangerous or embarrassing things including wing-walking on top of an antique biplane and stamp collecting. When she mentioned in her blog on the Blue Peter website that she had an ambition to be sawn in half by a magician, viewers started a campaign for her to do a challenge where she would become a magician's assistant.
This campaign was successful, and Salmon filmed a challenge where she assisted a magician with a number of illusions including levitation and a transposition illusion called "The Assistants Revenge". After the filmed segment of the challenge had been shown, the magician joined Salmon in the studio for a live performance of the sawing in half illusion, in which Salmon was sawn in half inside a clear-sided box in a version of the illusion called "Clearly Impossible".
Community content is available under
CC-BY-SA
unless otherwise noted.