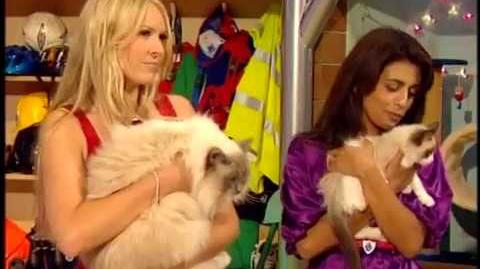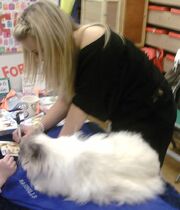 Socks (born 29 November 2005, Hertfordshire) was a male ragdoll and a Blue Peter cat who first appeared on 9 January 2006 as Smudge's replacement.
Blue Peter hit the headlines again with new breaches of trust in September 2007; an online vote on the BBC's Blue Peter official website took place to choose the name of the new Blue Peter kitten in January – the reported story was that instead of calling the cat Cookie, the name chosen by a majority of votes, the staff overruled the decision and called the kitten Socks due to problems with the voting system, and a large surge in the former name. As a result of bad media coverage the original cat, Socks, was joined by another kitten named Cookie to reflect the decision of those who participated in the online vote. The BBC broadcast an apology on 25 September 2007 at the start of the new series.
Community content is available under
CC-BY-SA
unless otherwise noted.