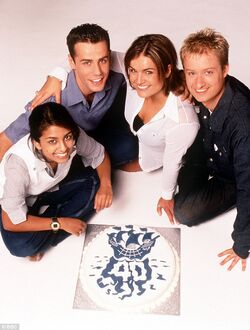 Blue Peter Presenters are the male and female people that present Blue Peter as well as travelling to places to report on various things. The presenters change over the years with many of these presenters becoming big names within the British media.
The first presenters of Blue Peter were Christopher Trace and Leila Williams. Trace presented for nearly nine years, and Williams for just over three years (although no footage of her has been retained by the BBC).
In the early days, as the show ran continuously on a weekly basis, other presenters occasionally stepped in to give the regular team a break.
Presenters list
Edit
Presenters (visual)
Edit