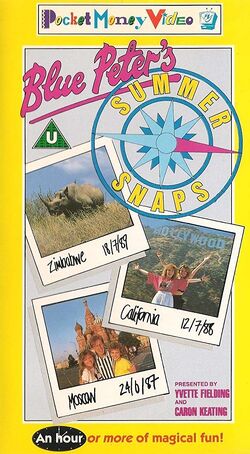 Blue Peter's Summer Snaps is a VHS Tape, rated Universal, which was released to the public some time around 1991. The tape, lasting for around 65 minutes, is a complication of footage from the Blue Peter summer expeditions.
Do you remember Yvette Fielding and Caron Keating's exploits at the Moscow state Circus, John Leslie making friends with a pair of Black Rhinos and Mark Curry taking a mud bath in the Crimea? You do? Pack your bags, grap your passport and jump into this fascinating hoilday snap album with Yvette and Caron as they re-live the best moments from three thrilling Blue Peter summer expeditions.
Join the team in the Soviet Union for Blue Peter's first trip to the Eastern Bloc, where they delight in the historical sights of Moscow, holiday on the Crimean coast and make a rare visit to the space flight control centre where Blue Peter receives a special message from outer space.
In complete contrast the 1989 summer trip to Zimbabwe was truly wild with Yvette having the shower of her life at the incredible Victoria falls while John meets the threatened Black Rhino and makes music with the locals.
Finaly on the excitement of North America's west coast as Yvette and Caron go to a drive in church, roller skate on Venice beach, sample the "big waves", shoot the repaids and swim with Sharks off the Californian coast.
Three amazing Blue Peter trips packed full of adventure, thrills and spills - a summer snap album to be shared and cherished for always.
Community content is available under
CC-BY-SA
unless otherwise noted.